8245 Chapel Hill Road, Cary, NC
919.380.7135
Tuesday-Thursday 11-5, Friday 11-10 pm (wine tasting till 6pm)
Saturday 11-8 (longer Sat hours from 7/23 till 10/29), Sun 1-5
Monday closed.
Breaking News:
•
We have had many requests to stay open later on Saturdays so we will give it a try. Beginning Saturday, July 23 through the end of October, we will remain open until 8 pm each Saturday.

• Another request that we are happy to add is we will have TWO Winery Tours on Sundays at 2 and 4 for the summer season. So if you can't make it on Saturdays, come on out on Sunday.

• WineAway Friday small change: We will continue to do our usual Wine Tastings on Fridays until 6. After 6, we will switch to Wine Flights as Wine Tasting. The Flights are $14 for four 3.5 ounce pours which may be four wines of your choice or two wines and two beers on tap. We have added a Duck Rabbit brew to our current Fortnight 'Imperial Blonde Ale'.

Have a change you'd like to see? Tell us and we'll do our best to make it happen!
August 25 - Paint your Own Pet Portrait - Thur. 6:30 to 9 pm
OK, before you say, "I could never do that..," YES YOU CAN! Here's what you do: Email a 3 MB or larger color photo of your at least six days before the class and Wine & Design will sketch your pet on a 12" x 16" canvas, making it easy peezy for you, with their assistance, to paint. All details and tickets online
August 26 -
WineAway Friday - 6 to 10 pm
Music by Half Past Six (formerly the GM Project) - Come on out for an evening of Jazz with Half Past Six performing a wide array of styles including Ballad, Swing, Blues and Latin, focusing on classic Jazz Songs. Half Past Six are Ana Pardo - Vocals, Cara Albora Shaw - Keyboards, Ken Bowers -Guitar, Scott Griffin - Drums, Jim Long - Sax and Chris Mervin - Bass.
We had Qspresso food truck booked but as it happened before they suddenly cancelled. Sorry if you were counting on trying their food. In their absence you are welcome to order food from a local restaurant and bring it in.
Try our Wine Slushy, fruity and refreshing, straight from our Chillie Willie. Explore the diversity of Chatham Hill wines with your choice of four pours in a Wine Bridge sampler. Not in mood for wine, try local beer on tap. Try our wonderful international cheeses, salami, and crackers.
August 27 - National Dog's Day - Sat. 1 to 5 pm - Immortalize man, woman & child's best friend with photos of your Pooch on a wine bottle label. Bring your Pooch to hang out on the deck (water and treats provided), an electronic photo and we will create a personalized wine label (while you wait). $10.00 will cover the label fee for a two bottle minimum purchase. The following wines are available for dog labels: 2013 Chardonnay, 2012 Merlot, and Sweet Carolina Blackberry. This has always been a popular event at Chatham Hill. Can't make it, send your electronic dog photo to Marek and call us with credit card at 919.380.7135 to reserve your Dog Labeled Wine.
---
Chatham Hill Art Gallery - part of Cary Art Loop
"Whimsical Hearts And Abstract Flowers" by Kathleen Dentinger - August 1 to 31, 2016
Take a needed break from your hectic schedule and stop by to view Kathy's exhibit anytime during the Winery's open hours. All art objects are for sale and marked as such.
The exhibit features acrylic and mixed media paintings. The vibrantly colored pieces represent Kathleen's delight in artistic expression and imaginative creativity.
We are grateful for your business...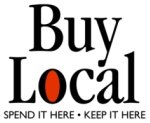 As many of you know, we relocated the Winery from the Gateway Center complex closer to downtown Cary in July 2013. We are thrilled with our new digs while at the same time the move has been a challenge to our business. We realize that it will take time for folks to find us again. All this to say, we are very grateful to those of you that have continued to support us with your purchases. Speaking for all small, independent businesses, please shop LOCAL as much as possible...it is critical for our survival.
Thank you and we look forward to your visit. The Chatham Hill Wine Gang.